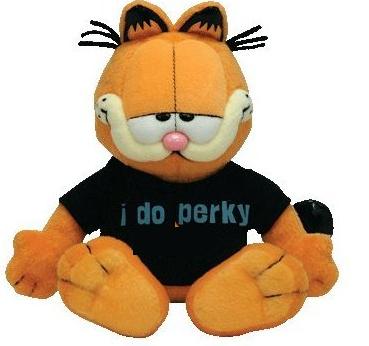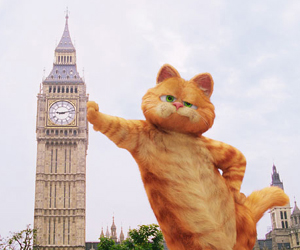 Garfield is a lazy, obese, selfish, rude, and,
Garfield J. Armbuckle

Birthdate

June 19 1978.

Friends

Jon &Odie

Actor

Lorenzo Music (1979-1994) Bill Murray (2004-2006) Frank Welker(2007-present)

Lovebugs

Arlene/Penelepe

Fur

Orange

Fav Foods

Lasagna,Pizza
smart orange tabby cat with distinctive black stripes and an attitude, who enjoys eating, sleeping, watching TV, and tormenting his owner,
Jon Arbuckle
,
Odie
, and Nermal. Jon's mailman,
Herman Post
is often hassered by him. His arch-nemesis is
Happy Chapman
, who only appears in
Garfield: The Movie
. His favorite food is lasagna, and he loves to snack on fish and canaries ("You can't eat just one canary!"); however, he hates raisins. Also, he has sickness problems, like nap attacks. He refuses to eat mice ("Show me a good mouse, sir, and I'll show you a cat with bad breath!"), and has befriended several. He does, however, hate spiders. He is on number 8 of his 9 lives. He considers himself to be more intelligent than humans and other animals. He hates Mondays (not applicable if it is also his birthday), and is often struck by bad luck in Monday comic strips. He is on a lasagna diet ("I
see
lasagna, I
eat
it!"). He enjoys performing on the fence at the convalescent home next to Jon's house in the middle of the night, although he is usually "boo"ed at and bombarded with various objects. He frequently destroys Jon's house curtains and ferns, as well as the flowerbeds of Jon and their neighbor, Mrs. Feeny.
Garfield was born in the kichen of Mamma Leoni's Italian restaurant In 1971. At birth, Garfield had weighed 5 pounds and 6 ounces.
He detests being taken to the vet, and usually tries to hide from Jon when he is informed or if he has a "feeling". In one strip sequence in 1986, their home address is revealed that Garfield, Jon and Odie live in 711 Maple Street. However, in Garfield in Paradise, Garfield's fantasy dream had a cat named Mike say that he is from Wages, Nevada (however, this was a fantasy), and in the Garfield and Friends episode of the 2nd season, Jon is running from a Chicago airport. In the TV special, Garfield Gets a Life, Jon's car is revealed to have an Indiana vehicle registration plate at the end of the episode, indicating that they live in Indiana. In Garfield Goes Hollywood, while Jon, Odie and Garfield are on Pet Search, the announcer says that they are from Muncie, Indiana. This is possibly because Jim Davis is from Indiana, and Paws, Inc. is located in Muncie. Though he often treats Jon and Odie horribly, it is often indicated that he does indeed care for them. Garfield is jealous of Odie and Nermal.
On December 24, 1980, Garfield's last name is revealed to be Arbuckle.
Community content is available under
CC-BY-SA
unless otherwise noted.